Constructing a collaborative platform for Report360
See how we brought the vision of a group of experienced construction professionals to life with a cloud-based software solution.
We love rising to real life challenges. When a start-up comprising of a group of highly experienced construction professionals shared their idea for Report 360, we grabbed our hardhats and immediately set to work designing and building it. Read on to discover how we brought their location-accurate, easy-to-use visual site collaboration SaaS solution to life.
Having worked for years at various construction sites, the team at Report360 had seen an opportunity – a gap that they simply had to fill. It centred on trying to solve the long-standing problem of collaborating and sharing information across various construction projects, based on issues they experienced on site.
Foundations of the idea
Traditional ways of communicating on construction sites have involved a mass of emails, pdfs, phone calls and notes marked on walls. Things can be easily overlooked or simply lost in the confusion. The team knew there had to be a better, more connected, visual, efficient and centralised way of doing things. By developing and designing the Report360 platform, all these issues have been solved.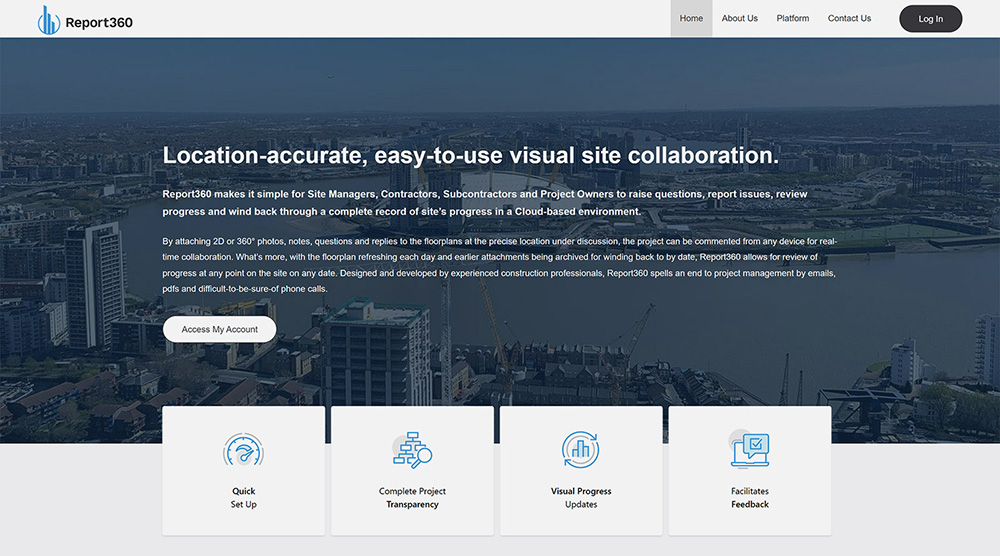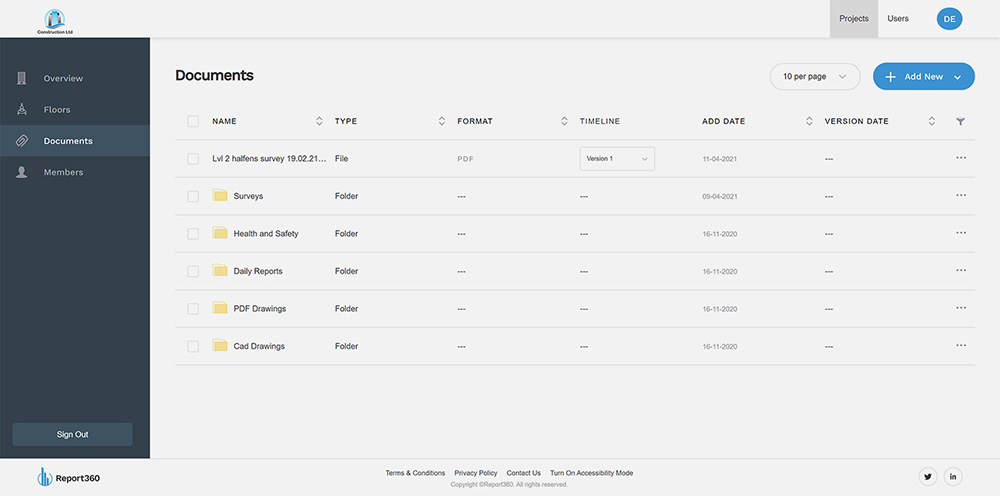 Aggregating everything
Report360 makes it easy for Site Managers, Contractors, Subcontractors and Project Owners to raise questions, report issues, review progress and wind back through a complete record of multiple site's progress in a cloud-based environment. By aggregating everything on one easy to use cloud-based platform that can handle multiple users, projects and locations, everyone can collaborate and reach consensus on on-site issues for even the most complex construction projects.
Visual site plans
Report360 enables users to upload a site floor plan and visually pinpoint the precise location of construction-related issues. Users can then review and resolve any issues with 2D or 360° photos, drawings, and comments which are available to all, in real time.
Users can add location hotspots then attach images and notes to specific locations on the plan. This allows them to pinpoint a very specific area on the site and attach whatever information they need to.
As 360° images are supported, users can look around and effectively walk the site. Floorplans are refreshed and archived daily, including earlier attachments, enabling users to wind back by date through a timeline. So users can hop back in time and see a visual record of progress at any point on the site on any date. They can also select two photos of the same spot to view side by side to view progress over time.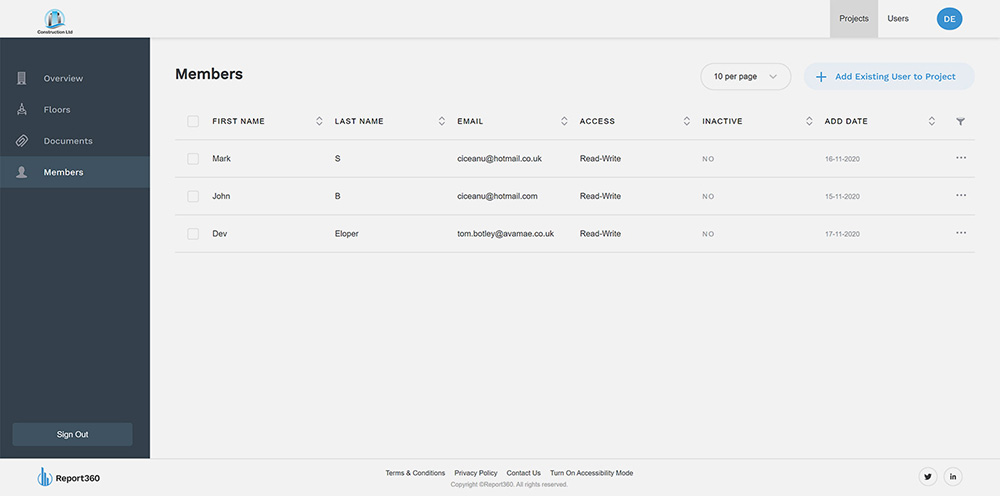 Perfect project manager
We built the Report360 software so that admins using the software can set up one or more projects, add team members and set permission levels. This means they can give access to different projects and specify whether each user is read only, contributor or admin.
Once a project is set up, admins can upload multiple documents connected with the project, including 2D and 360° images. They can also use this as a storage facility for all documents connected to the project.
Key Features
Location Hotspots – add accurate location markers on photos and plans with detailed notes.
Photo Comparison – compare photos taken at different points in time to identify problems or changes in site conditions and show site progress.
Cloud Folder – upload CAD files, Word, Excel, PDF and other docs to a real-time project folder to view or download wherever you are. Sync content of your folder across multiple devices for all users.
Notes & Comments – add notes and comments either directly to photos or onto the project drawings, reply in real-time.
Defect Management – Highlight defects or areas of interest on drawings and photos. Comments threads give a holistic historic picture.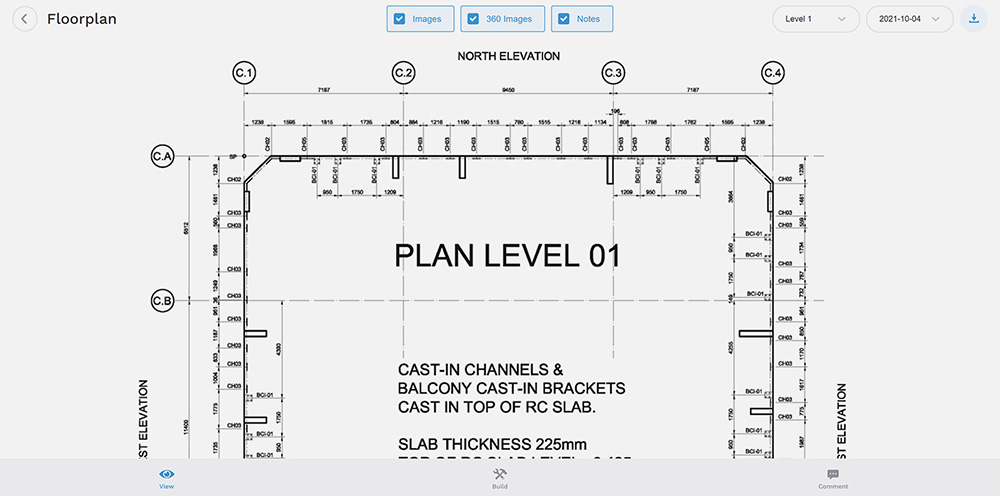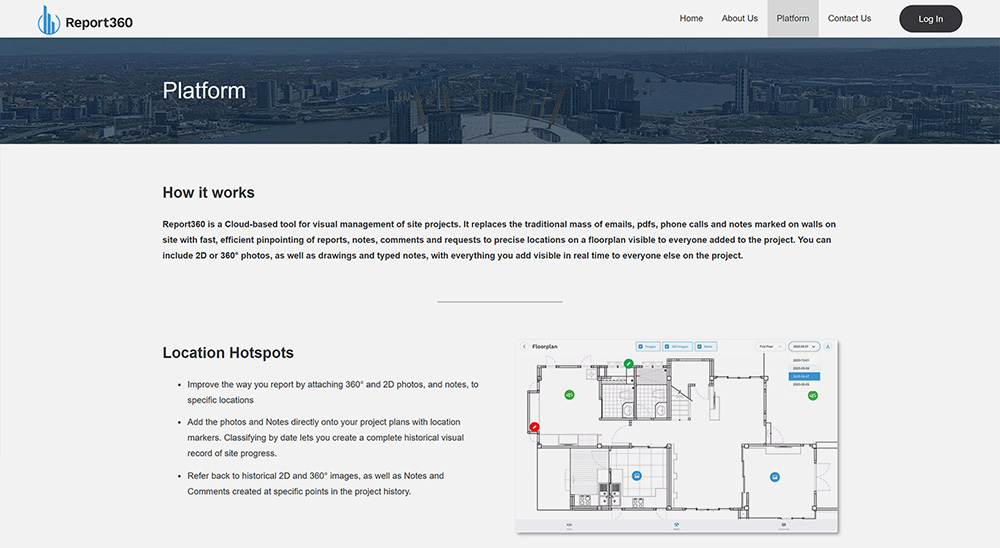 Simple solution
The end result is a highly accurate, practical, invaluable and user-friendly SaaS software solution that has improved both quality control and efficiency for Report360 clients. All users, from Site Managers to Sub-Contractors, now collaborate seamlessly and share information, in real-time, using cloud technologies.
Companies we have developed software for:
Have a project to discuss?
Fill out the short form on our Contact Us page or give us a call directly on +44 (0) 800 029 1425. We'll guide you through our process, advise on the best possible solutions and steer you in the right direction.