Overstocking is a major issue
Here's how we helped Buyfair create a brilliantly simple solution.
Did you know that overstocking in the UK alone amounts to £5bn? We'll let that sink in. Overstocking is where unsold manufactured goods sit in warehouses for years gathering dust. More shocking is that some of it gets destroyed. Obviously, for manufacturers, it's money straight down the drain.
So, you see the scale of the problem? Fortunately, start-up 'Buyfair' saw it as a big opportunity.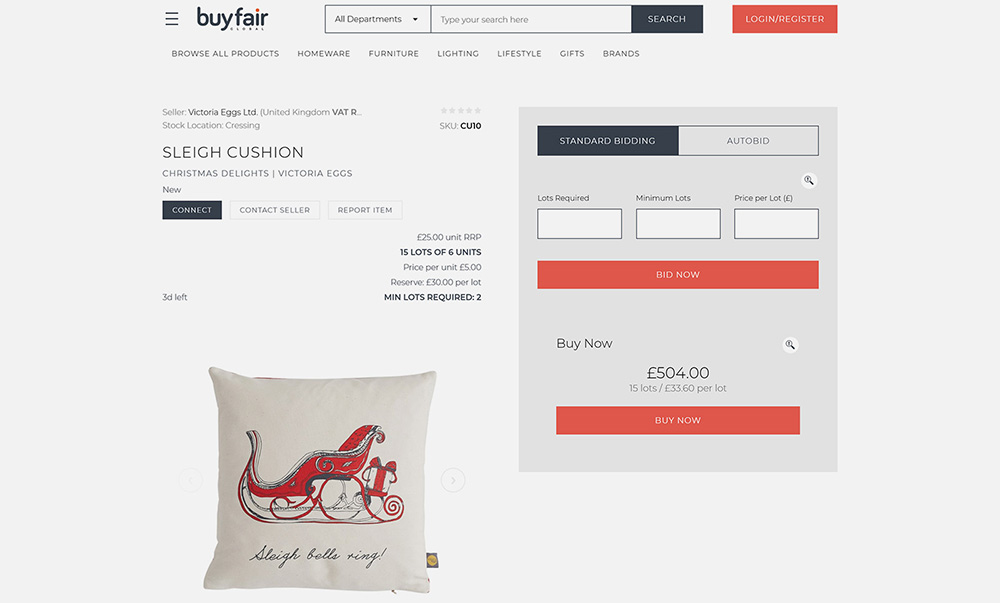 Enter AVAMAE
Buyfair came to us because they knew that we had an uncanny knack of simplifying complex challenges. They wanted a straightforward solution to the overstock problem. A self-service platform that would enable sellers and buyers to quickly and easily manage auctioning their overstock. Not only that, it needed to create a network effect to attract buyers and extend auctions to a wider network. Tricky, but not impossible.
Multiple challenges
We needed to create a completely automated system which was easy to use while facilitating what is a complex transactional workflow. Easier said than done.
Challenge 1
First, we needed a way for users to simply set up an auction and upload an entire inventory in one go. It also had to be capable of handling a range of products, each with different product details.

Challenge 2
The platform needed to smoothly manage payments in a fair way for buyers and sellers. So buyers could commit to paying for lots they've won and securely transfer funds on delivery.

Challenge 3
The big one. We needed a way to manage a one-to-many environment. Ideally, all the auction stock would be allocated to buyers in a way that maximised the value of the entire stock and sell the entire inventory. All in a real time auction with fluctuating bids and different quantity requests. We knew this wouldn't be a simple algorithm.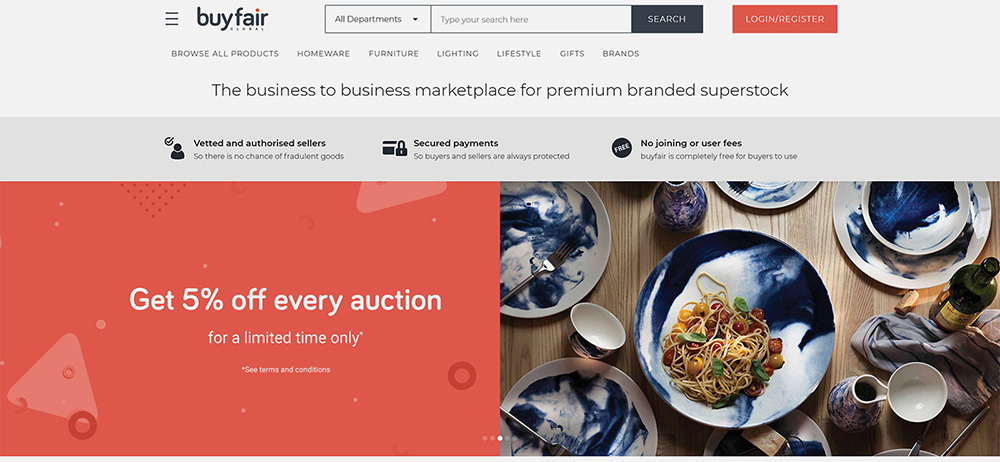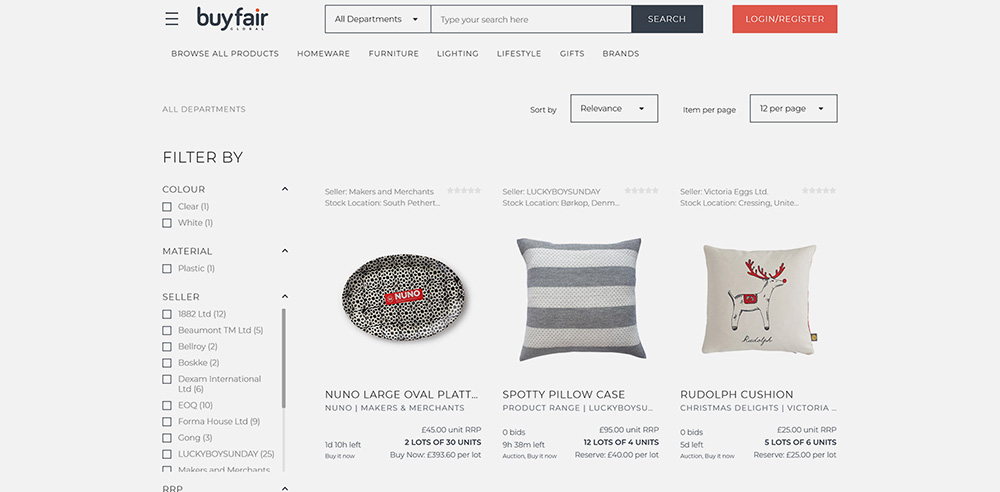 Simple solution
The challenges were complex. The solution needed to be a breeze to use. That's what we do, so we set to work.
We designed and built the Buyfair platform so that a simple automated spreadsheet upload would allow sellers to add their inventory in bulk, in seconds. It could handle various items with different details and multiple product images. Not only that, it could attribute them to multiple auctions for each product type.
Security was a top priority, so we designed the payment flow to ensure that the funds are kept secure and winning bidders were committed to pay. How? By making buyers pre-authorise a card. Funds from buyers are then held in an escrow account until they receive the goods. Simple and fair whichever way you look at it. Invoicing is fully automatic, as is the transfer of commission into Buyfair's account.
The graphical interface was designed to clearly inform the buyer of current real time stock allocation at the instant they submit their bid. Also, to encourage engagement, we gamified the bidding process.
Patent pending algorithm
We knew the algorithm needed to be something special, and it is. We developed an entirely unique Patent Pending algorithm. One that calculates buyer allocations, maximises the auction value and updates buyers in real time of their bid status. So buyers know if they've bid too low.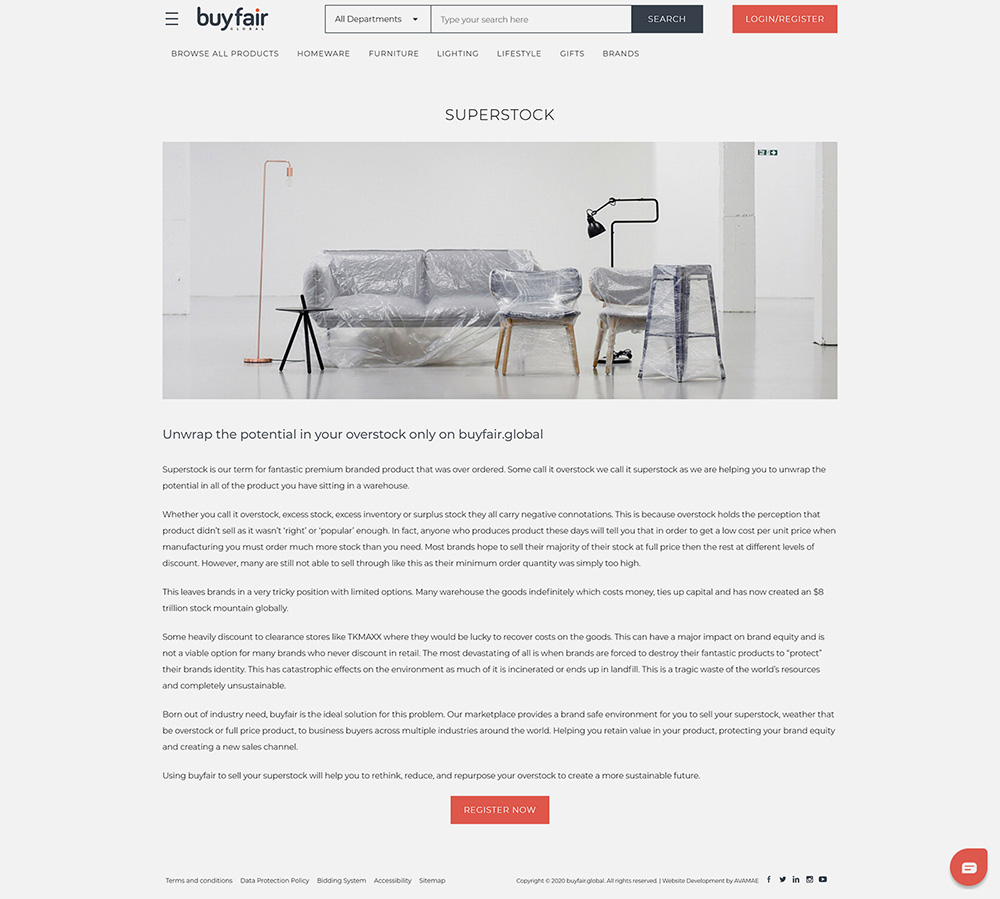 Everyone connected
Finally, to attract buyers, we created a network that connected buyers and sellers. They can view each other's profiles and associated auctions. For buyers, it suggests connections and auctions buyers might be interested in. For sellers, it enables them to invite their current buyers onto the platform and give them exclusive access to private auctions and see stock from other sellers.
What Buyfair think
'AVAMAE was asked to provide a software solution to the problem of allocating partial bids for surplus stock in a manner that gave the maximum financial return to the seller. Their solution was inspired involving the use of a hitherto little known area of mathematics (mixed integer linear mathematics). The problem was solved and it led to an international patent application. We were very pleased by AVAMAE's refreshing and innovative approach.' – Guy Tritton, IP Barrister, Buyfair
Companies we have developed software for:
Have a project to discuss?
Fill out the short form on our Contact Us page or give us a call directly on +44 (0) 20 3855 0690. We'll guide you through our process, advise on the best possible solutions and steer you in the right direction.