Strengths-based psychometric testing is complex
Discover how we helped Strengthscope® upgrade their innovative platform.
Standard psychometric testing by employers has increased dramatically over the past decade. However, the Strengthscope® testing tool is different. It focuses on helping employees discover and develop their strengths to improve performance and engagement at work.
Strengthscope® is the only strengths assessment to have achieved Registered Test Status with the UK's British Psychological Society. Its unique set of transformative strengths-based assessment tests lead to dramatic organisational culture change.
Strengthscope® is widely used by high profile names including Hilton, John Lewis, Tesco, Samsung, Channel 4, Virgin Money, EDF, BT and the NHS. It discovers and develops unique strengths, improves engagement, increases productivity, enhances well-being and maximises effectiveness.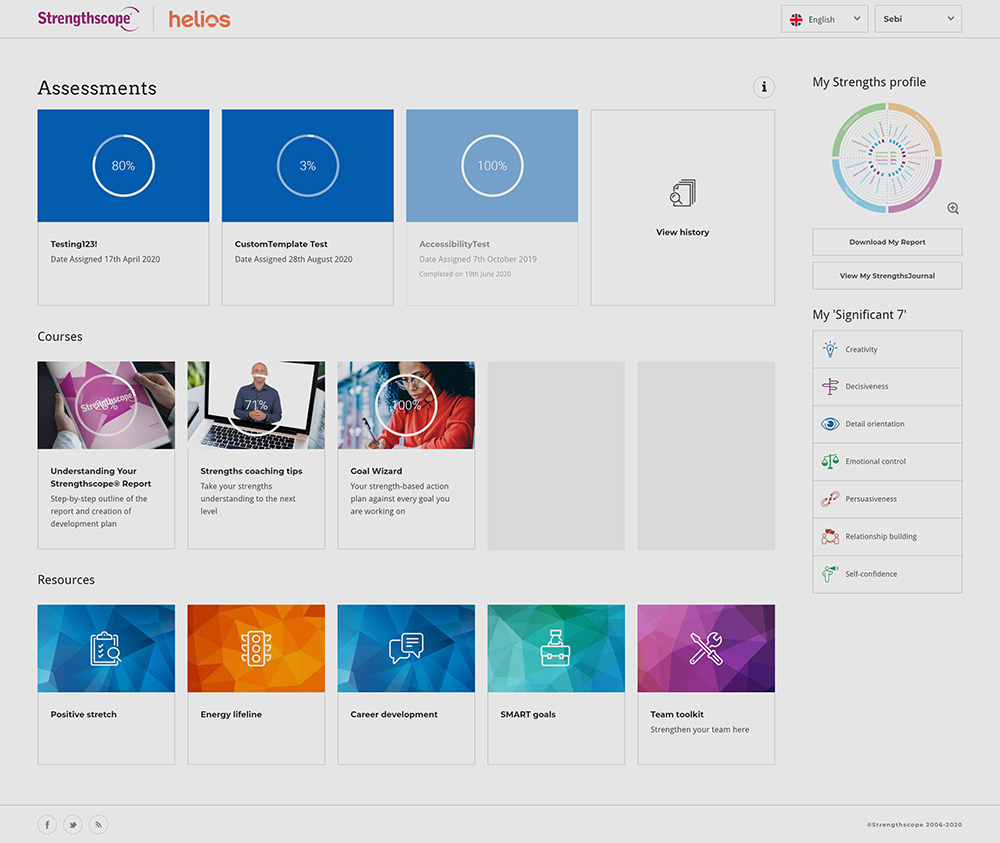 Building on its strengths
When Strengthscope® began talking to us back in 2016 about their desire to upgrade the platform, we were immediately impressed by the tool and excited by the prospect of being involved in such a complex challenge. We understood the value of the Strengthscope® tool and agreed that improvements in security, technology and mobile responsiveness could take it to a new level and an even wider global audience.
No ordinary tool
Strengthscope® was developed after a decade of extensive testing, research and validation. Since then, it has grown into a multi-faceted suite of tools that not only unearth the unique strengths of employees, but also their leaders. It provides invaluable feedback and reports, makes teams more productive and measures ROI and employee engagement. It's complex, yet it is delivered in a simple and inspiring way… our type of software.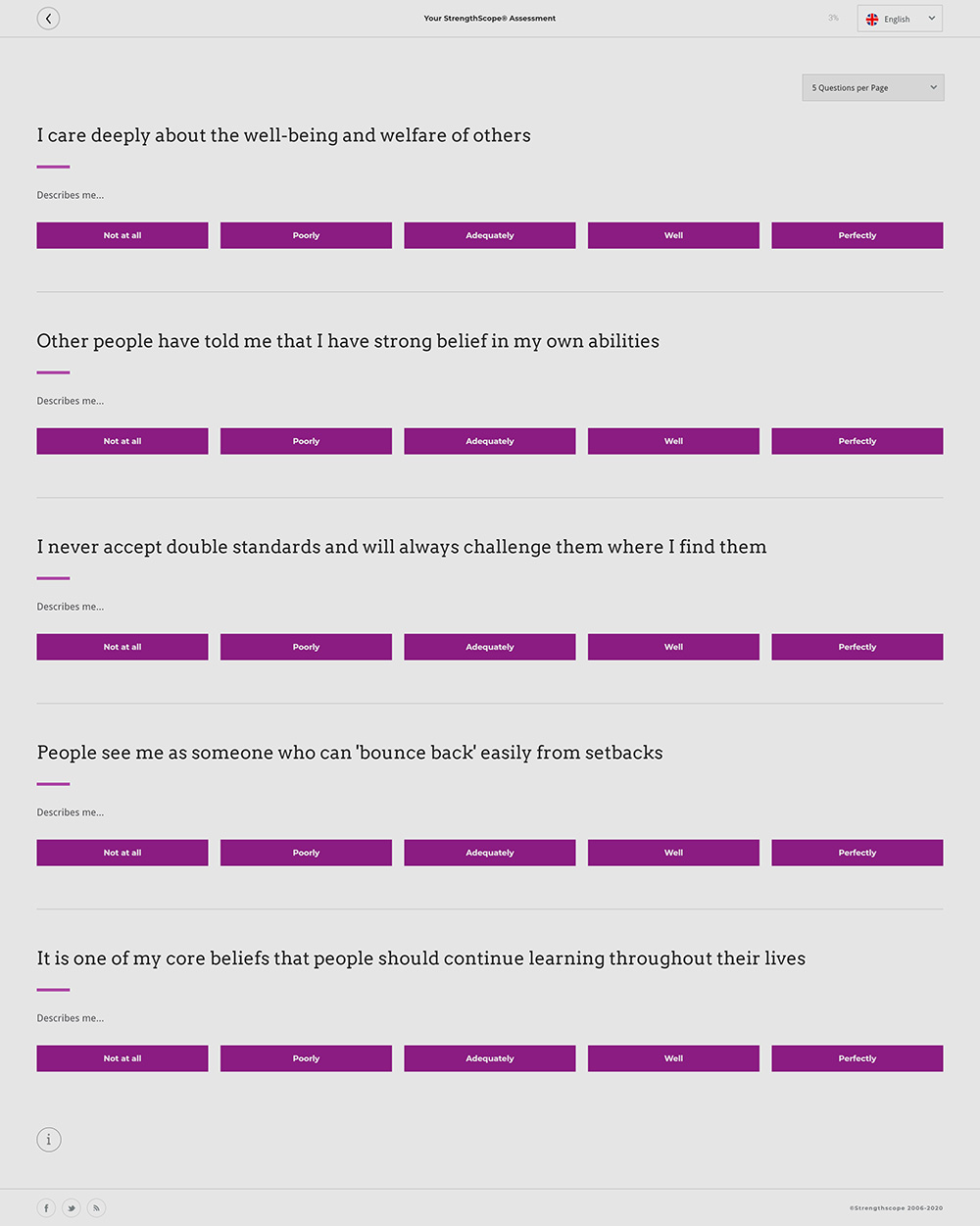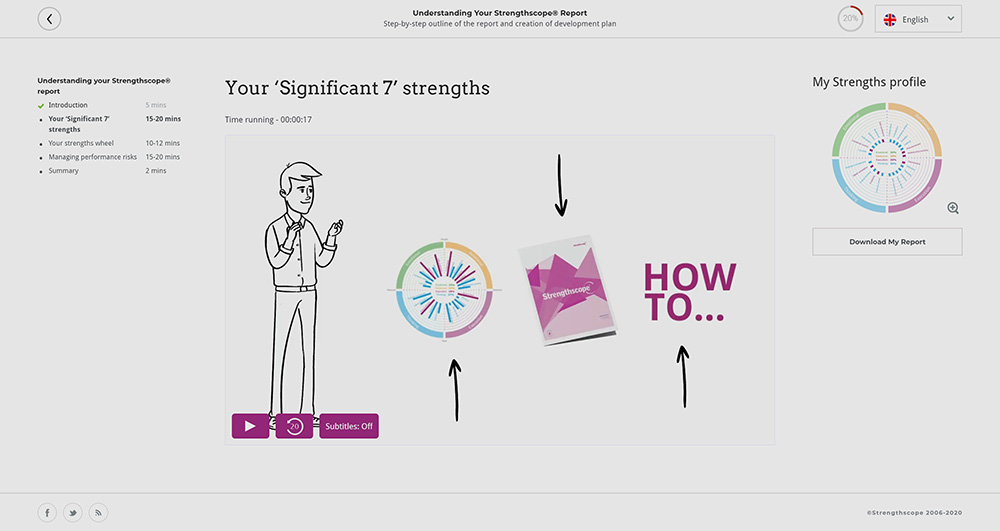 Multiple challenges
The time was right for Strengthscope® to be upgraded and made more scalable to support global distributors and users. The new updated system needed to not only fulfil the same criteria, but also enable new and future functionality to be added. It must be secure, simple, easy to use by all and perform at high speed. From the requirements it became apparent that Strengthscope® required a cloud hosted, custom-built, SaaS (Software as a Service) platform.
Challenge 1
It was essential that Strengthscope®, when rebuilt, remained the best in its field and led the way in delivering mobile responsive surveys.

Challenge 2
We needed to avoid the danger of incomparable data that would make the large archive of existing anonymised statistical data invalid.

Challenge 3
We had to consider how surveys worked on smaller mobiles screens compared to desktop computers in order to avoid survey fatigue and incomplete surveys.

Challenge 4
We needed to create a SaaS platform that accommodated a reseller hierarchy, had in-built eCommerce and was multi-lingual.
Stronger for the future
The Strengthscope® tool has been at the forefront of strengths-based psychometric testing. The new modernised platform is designed to keep it there:
Simple and responsive – The rebuilt Strengthscope® is now simple and easy to use on any device, which maximises its use by clients. The smoother, better experience also alleviates bias and limits survey fatigue.
Best in class – Strengthscope® is a world-class psychometric platform which requires an IaaS (Infrastructure as a Service) to match. By rebuilding and hosting the updated platform on Microsoft Azure, it is now highly available, scalable and secure, and fully compliant with GDPR and ISO 27001:2013.
Maximum automation – Strengthscope® is now a self-service, multi-lingual format that enables clients to manage their accounts autonomously. Strengthscope®'s reports, including the standard self-assessments and all those requiring 360 feedback were all reprogrammed. Automation now ensures that results, feedback and reporting involve minimal manual intervention.
Tailored to users – Strengthscope® admins now have access to a high level of configurability. Each client has a package tailored to their needs and access to an interactive dashboard. They can now easily track report usage and purchase of reports through a new shop function.
eCommerce Strengthscope® can monitor client's purchasing directly through the site. The client also has full control over the creation and management of their various products – from reports, to training events and literature.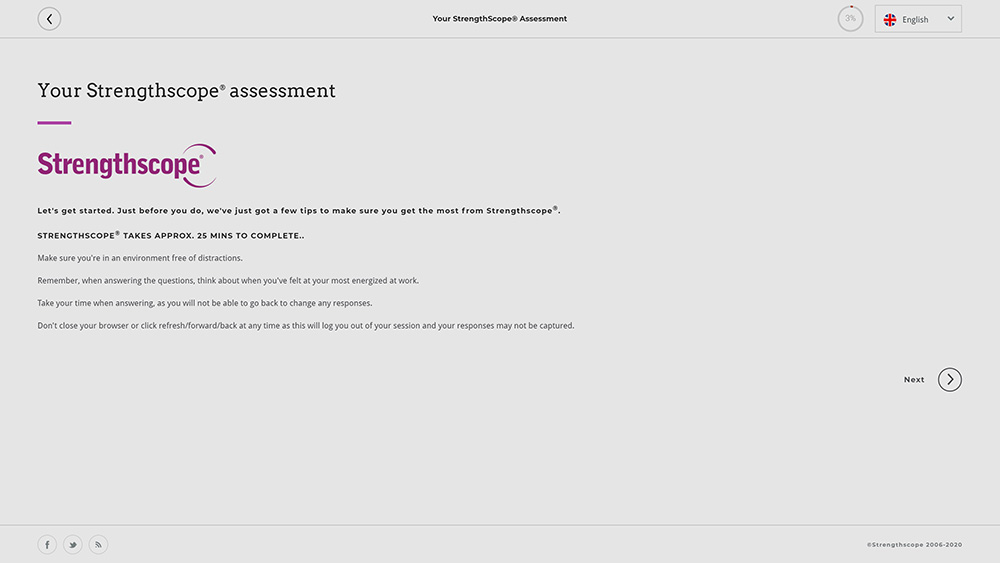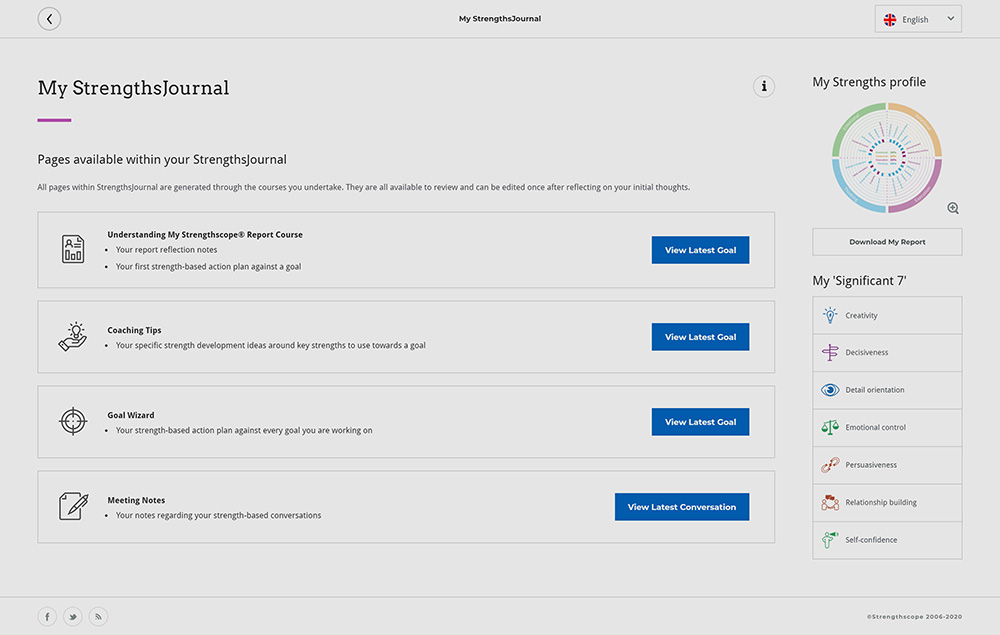 Close ongoing partnership
Post-launch in late 2017 we worked on a lot of Requests for Change, which is quite usual when developing and fine-tuning software on fixed price projects. We worked together with the client to make several changes and enhancements to the platform to add an ever-growing list of new functionality.
As the platform is an integral part of Strengthscope®, the client took out one of our Managed Services Contracts in January 2019 in order to continually develop the software in close partnership with us. This ongoing working relationship provides all the benefits of managed services including the constant availability of our design and development team and a highly responsive and agile way of working.
Companies we have developed software for:
Have a project to discuss?
Fill out the short form on our Contact Us page or give us a call directly on +44 (0) 20 3855 0690. We'll guide you through our process, advise on the best possible solutions and steer you in the right direction.